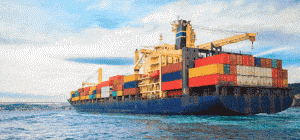 Gerhard Uys discussed possible export opportunities for pork products from South Africa with Ezra Steenkamp of DAFF.
The main constraint in exports is the high standards of traceability, animal health and food safety regulatory concerns.
Because South Africa is prone to constant disease outbreaks it is rather difficult and risky to expand the industry and be fully dependent on foreign markets. The movement to establish and operate in compartmentalised systems is gaining momentum, but still is not accepted by many countries.
Such a compartment system is when production is in a closed system where the necessary veterinary and food safety risks are at acceptable levels even if the country has a disease outbreak. However, even such compartment systems are intensively managed and require higher levels of operating capital. It is therefore out of reach for many small producers unless in a consortium. The indirect benefits of exports by commercial operations are that it also sustains higher and more sustainable prices in the local market for the smaller and extensive farming operations.
Due to the severe limitations of our veterinary system to obtain and sustain access to sophisticated western markets such as the EU, USA and Russia, the focus of foreign market access priorities for the meat industry is to initially obtain protocols for markets that are easier to access. These low hanging markets are typically the Middle East markets where good political relations has led to potential easier access for South African meat exports for beef, mutton and poultry. South Africa's halaal capabilities to these markets are lucrative and some of the Middle Eastern markets consume high value meat cuts. The pork industry as priority focusses on traditional pork consuming countries of East Asia. By securing only a few such markets through acceptance of the South African compartmentalise system, could provide the base for further investment to the production expansion of pork for exports. Without secured export markets that accept South African standards, further large scale investment in expansion is too risky.
Pork, bacon and ham sales forecasts in Asia-Pacific and Africa
The South African pork industry is especially interested in the fast growing pork consuming countries of Asia as growth markets.
With a liberalised trading environment in South Africa, imports put pressure on local supply and demand and prices. Exports of higher value pork products would enable the industry to expand production for exports. Realities of South Africa's limited regulatory capabilities have to be considered and a good match has to be found between South Africa's compartment systems to reduce health risks and target country markets that will accept our present regulatory systems.
The pork industry's priority export markets are firstly Singapore as a gateway to Asian markets and because of its increasing consumption of high value products.
China is a standing priority but it is realised that it is a difficult market to get into and it could take a long time to obtain market access. The other easier markets with fast growing demand are the other Asian priority markets: Thailand, India and the Philippines.  African countries like Angola could be important but requires low value products.
The research approach was to study forecasting and growth trends for the priority markets over the next five years and also study the general consumer environment of the country to obtain a better sense of the nature of the opportunities.
China has by far the largest pork meat market in Asia Pacific with a US$ 25 559.5 Mn sales in 2016 at a forecasted growth rate in value of 7.9% per annum over the next five years. The Chinese market could be a difficult market to access because so many countries want to access the large growing market and this place considerable pressure on regulatory aspects of market access. China is one of the Asian developing countries that are most ready with regard to mass grocery import penetration. China also has substantial of their own meat production capacity that creates opportunities for the imports for animal feed.
The South African pork export sector is in particular interested in Singapore as a gateway market to Asia, because of its higher value added sales and for being a sophisticated regional market in Asia. Furthermore, Singapore does not have any import tariffs and may accept South Africa's compartment system to mitigate animal health risks.
However, sophisticated consumers in both China and Singapore are very sensitive to health and food safety risks especially with regard to Mad Cow disease status and African Swine fever. The Singapore pork meat market is forecasted to grow at 6.6% per annum over the next five years from US$ 469 Mn sales in 2016, while bacon and ham sales are forecasted to grow by 8.5% per annum over the next five years from US$ 82.7 Mn in 2016.
India also has a substantial growth in their bacon and ham market, forecasted to grow by 13% per annum over the next five years from a value of US$ 3 377.8 Mn in 2016. Expected sales in Thailand are also bullish and forecasted to grow by 7.8% per annum for pork meat from US$ 5 660.5 Mn and 9.1% per annum for bacon and ham from US$ 485.3 Mn in 2016.
Export competitiveness
The remaining South African meat export categories only have 0.1% of global trade each. The fourth largest South African meat export category is pork meat (HS 0203) to the export value of USD 18.4 million, but with a very low percentage of world trade of 0.1% and therefore still very emerging from a supply point of view with a fairly low competitive advantage at this stage. The main exports are mainly destined to African neighbouring countries. The largest global importers are China, Japan and Italy.
Meat tariff analysis
The overall assessment is that tariffs in the main targeted regions of the Middle East are relatively low which does not present a major competitive disadvantage to South Africa in relation to competitors.
Political influence in these markets is still very important to improve market access. South Africa can remain competitive despite slight tariff disadvantages in some cases. Of much more concern are potential dumping to those markets.
The Middle Eastern markets are still regarded as fair traded markets. Vietnam is probably one of the most wanted markets for South Africa for better market access for various kind of meat products; both pork, beef and venison as well as other agro sectors like fruit.
Meat tariffs in many African destinations remain high for South Africa but are most likely to change over time with the present Tripartite and Continental free trade agreements that is in the process of negotiation. However, formal retail penetration is still very low in Africa due to the small percentage of middle class, mostly in the single digits, and therefore high value meat cuts to these markets is not expected to be in high demand in large volumes over the next five years.
(This article previously appeared in Farmer's Weekly) 
The South African Pork Producers' Organisation (SAPPO) coordinates industry interventions and collaboratively manages risks in the value chain to enable the sustainability and profitability of pork producers in South Africa.